Red Wine Braised Short Ribs
They come out perfectly tender, with a rich and complex red wine sauce that will have you weak at the knees.
It's an incredibly easy, set-it-and-forget-it kinda recipe that you can throw into the oven and let the magic happen. Please, please, please – use a bottle of red wine that you would only consider drinking yourself. Not saying you need to splurge here, but make sure it's a decent bottle because that's going to affect the taste.
Prep for the Red Wine Braised Short Ribs:
I really advise getting all of your prep done in advance so you can keep things neat, tidy and organized. It's also going to make things a LOT easier when you're ready to go! The celery, onions, carrot and garlic don't need to be cut uniformly whatsoever – we're ultimately using them to flavour our short ribs and for the sauce (and they do get taken out after). So get a rough chop for all of these and I like just cutting the garlic bulb right in half and leaving the skin on. Like I mentioned, it's all getting strained out of the sauce at the end.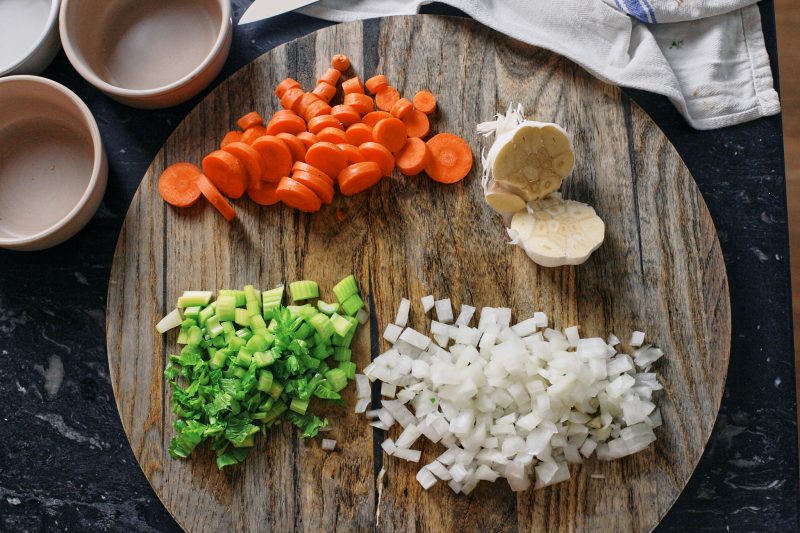 Beef Short Ribs:
Take the beef short ribs out of the fridge 20-30 minute prior to cooking so you'll get a more even cook. Pat dry them, and trim off any excess fat to your liking. Season generously with just salt. Next we dredge them in the flour and shake off the excess. The flour is going to help for a couple reasons:
It will help us get a nice, golden brown crust on the beef ribs as we sear them
It will help thicken the sauce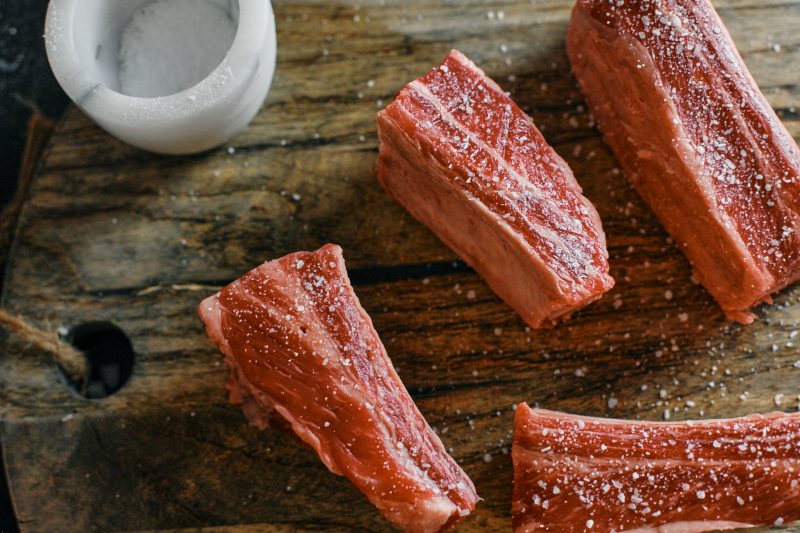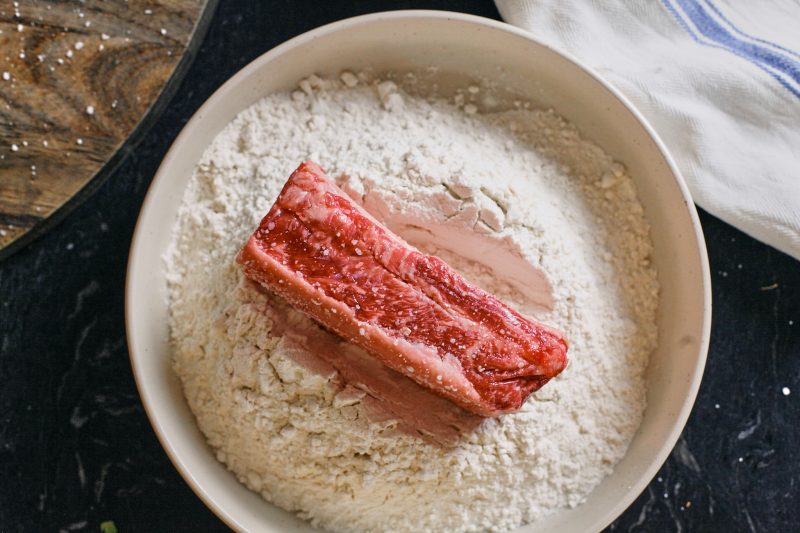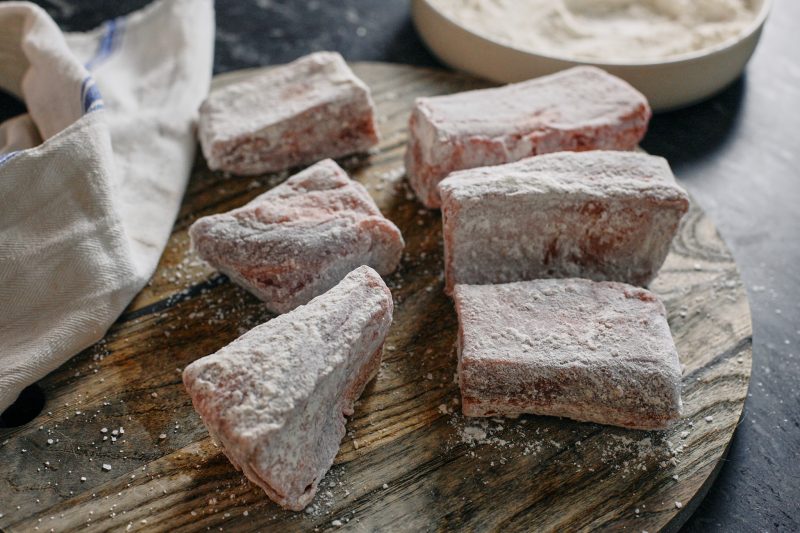 Now that we have all of our prep ready, it's go time. I recommend using a dutch oven for this so we can sear the meat and have it all go into the oven after.
If you are using a slow cooker: sear meat in a separate skillet, then cook on low for 6-8 hours
If you are using a pressure cooker: use sautée setting, then cook on HIGH for 1 hour with 15 minute natural release.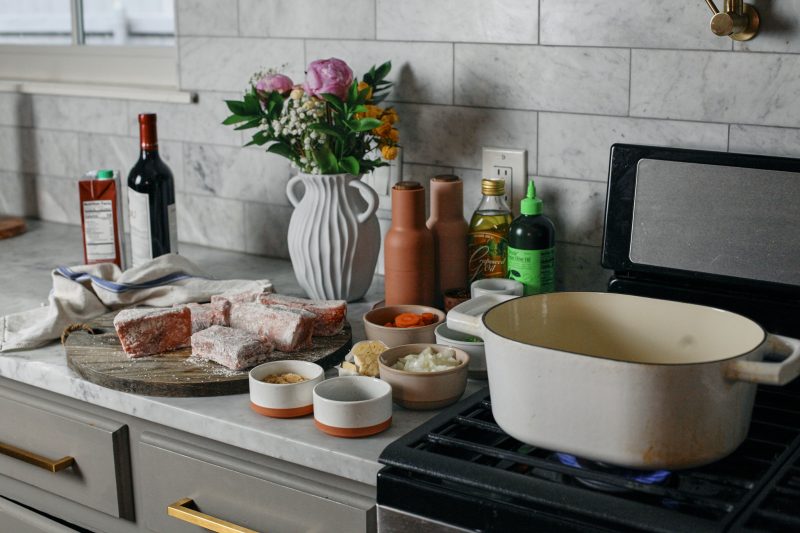 Let's set our browned short ribs to the side and these are going to get added back later for the braising part of the dish. I really like to take the time to get these nice and golden brown – it makes a huge difference at the end! Look at these beauties!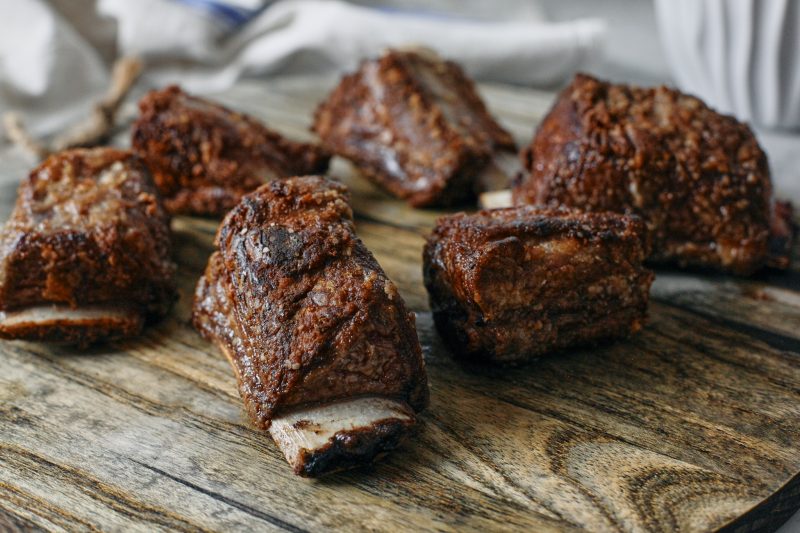 Our celery, onions, carrots and garlic get sautéed here for about 5 minutes until softened. We don't want to brown these, just have them softened.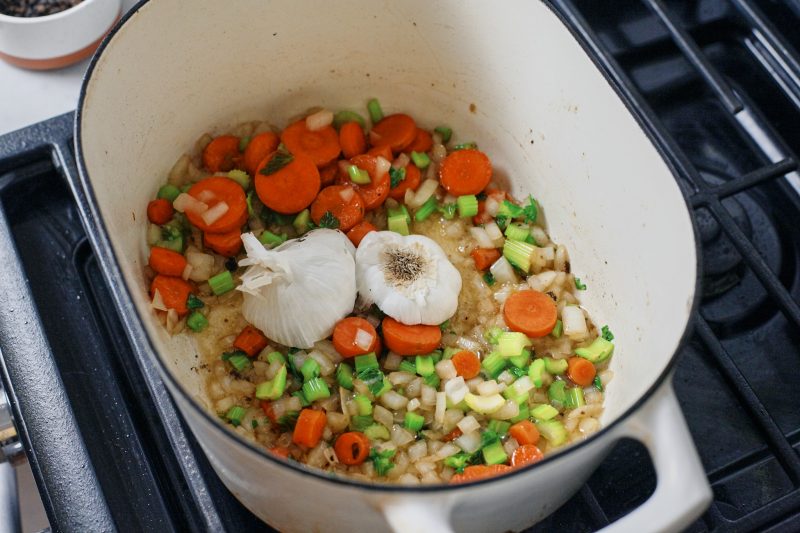 Now the super fun part – add a whoooooole bottle of red wine to the pot. Yup. And I don't like using a bottle that I wouldn't drink myself. This makes a huge difference to the flavour of the beef and the sauce at the end! Not saying you need to go crazyyyyy with an expensive bottle, but use something you'd enjoy drinking a glass of yourself.
Red Wine Suggestions: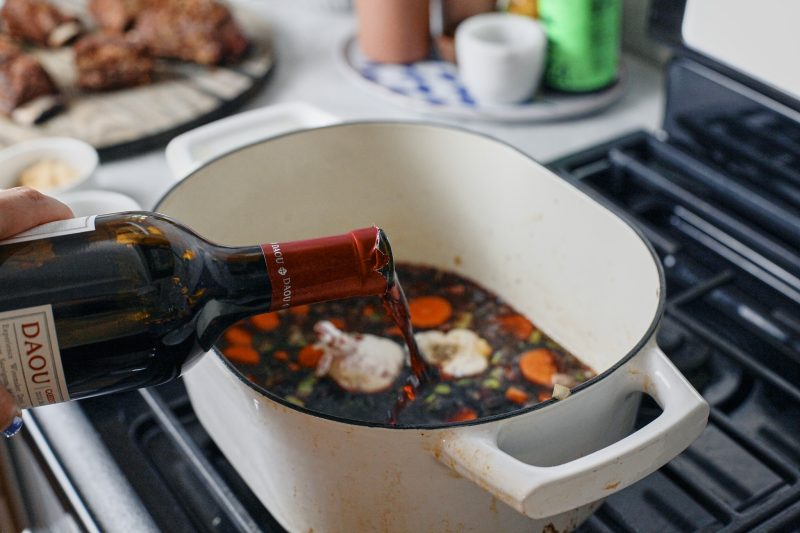 Add a carton (approx 4 cups) of beef stock and let that come to a bubble, add in the herbs, peppercorns, and brown sugar, then we throw it into our 350 degree oven for three hours.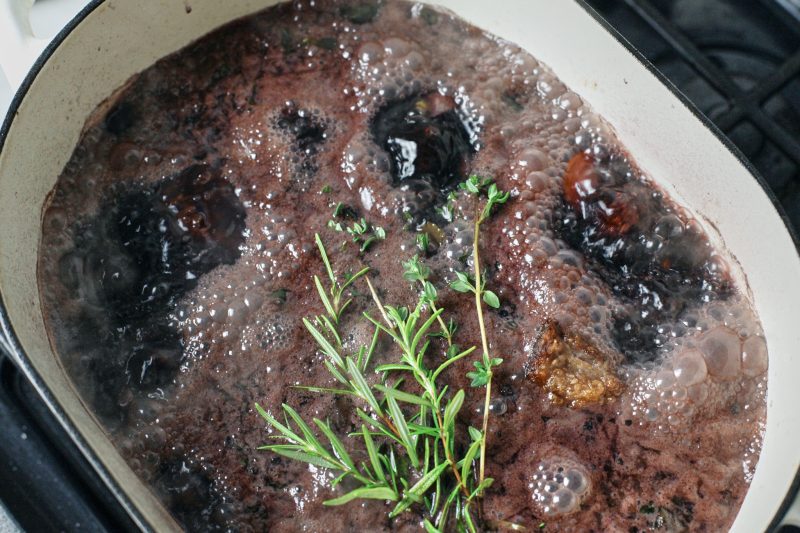 I can guarantee you that your neighbours will be knocking on your door at this point because they'll be able to smell this goodness from across the street. It's seriously that amazing.
After three hours of being extremely patient, set the beef ribs to the side (carefully, because they're going to almost fall off the bone here). Remove the veg, herbs and peppercorns with a spider or whatever else you have in the kitchen. Then we need to bring this sauce back to a bubble over medium and reduce it DOWN. I know you've been patient and waited for these to be done but this last final step is SO WORTH IT. I promise. Whisk away and this will reduce by about half, usually taking about 15 minutes.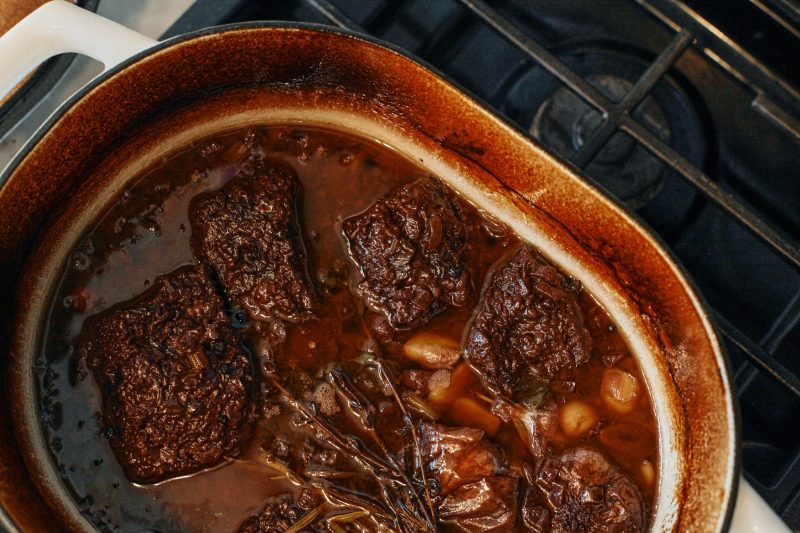 I like serving with mashed potatoes and asparagus or broccolini and then pouring that red wine sauce allllllllll over. I hope you like it!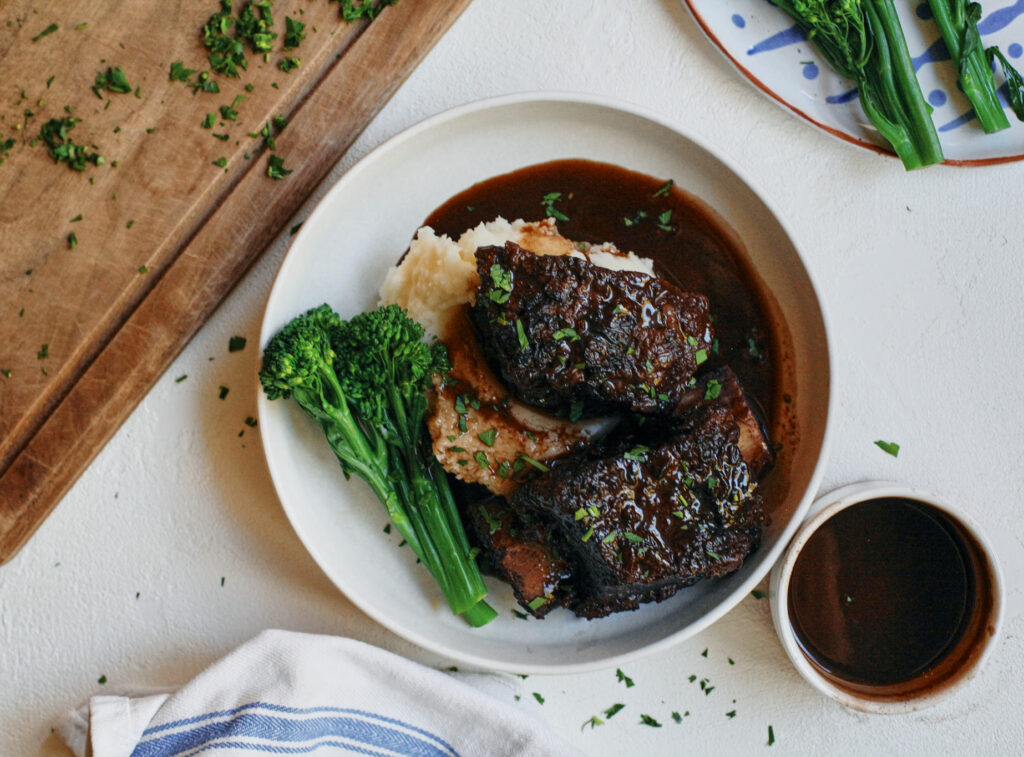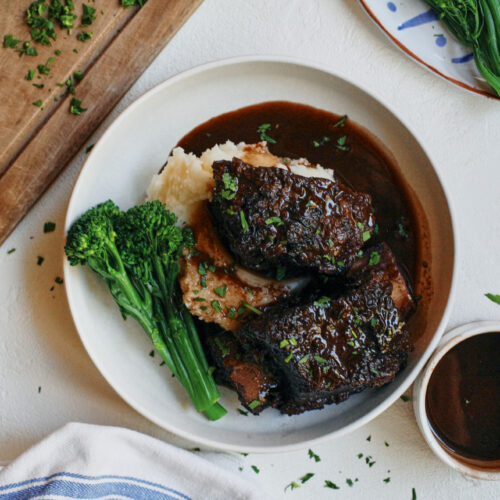 Red Wine Braised Short Ribs
These are truly THE BEST short ribs I've ever had in my life…
Ingredients
4-8

Short Ribs

1

onion

2

celery stalks

1

head garlic

1-2

large carrots

½

cup

flour

Rosemary

thyme

1

bottle red wine

1

box Beef broth

1/4

cup

black peppercorns

1/4

cup

brown sugar

1

tbsp

unsalted butter
Instructions
Preheat the oven to 350 degrees.

Option to trim excess fat from the ribs. Season the short ribs with sea salt and then dredge in flour (on all sides). Shake off the excess and sear these for 2-3 minutes on each side in a dutch oven pot over medium heat with neutral oil.

Set ribs to the side, add in chopped onion, celery, and carrots and stir for 4-5 minutes. Slice a garlic bulb in half and add that to the pot as well. Add in a whole bottle of red wine and a whole box of beef stock.

Add in brown sugar, fresh herbs and black peppercorns. Bring this to a bubble, add the short ribs back in, cover and throw into the oven for 3 hours.

Set ribs to the side, strain/scoop out all the veggies/herbs/peppercorns and then cook the red wine sauce over medium heat until it's reduced by half. Whisk often. It should coat the back of a spoon (may take 15-20 min but take your time here). Finish with a knob of butter.
Leave A Comment
Related Posts